About ICWOC
---
ICWOC provides a professional, direct and effective communication platform for the front-line researchers who work on Wireless and Optical Communications.
Why Attend the Conference?
---
- Enjoy regional diversity through structured networking with international colleagues.
- Have your work viewed in a different light with varying perspectives from distinguished experts
Important Dates
---
Submission Deadline -- Feb 25, 2017
Notification of Acceptance -- March 25, 2017
Registration Deadline -- April 10, 2017
Conference Dates -- July 7-9, 2017
Read More
Publication Introduction

Accepted papers of ICWOC 2017 could be published in Conference Proceedings, which will be provided to the Web of Science (CPCI), Scopus, Ei Compendex, Inspec, Google Scholar, Microsoft Academic Search, and others, to ensure maximum awareness of the Proceedings.
Selected papers will be recommended to be published in the followiing Journal: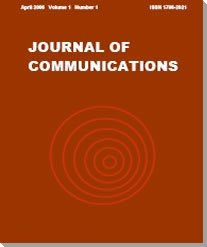 Journal of Communications

ISSN: 1796-2021 (Online); 2374-4367 (Print)
Abstracting/Indexing: EI Compendex; SCOPUS; ULRICH's Periodicals Directory; INSPEC; etc.
JCM出版的文章将被EI Compendex核心检索, 目前该期刊EI检索正常.

Journal Template
ICWOC News
---
30 Aug 2016 -
2017 5th International Conference on Wireless and Optical Communications (ICWOC 2017) will be held during July 7-9, 2017 in Singapore, and it is hosted at the Nanyang Executive Centre (NEC) in Nanyang Technological University.
13 Oct 2016 -
The proceedings of ICWOC 2016 is published out, and being included in the SPIE Digital Library.